As a community of artists, creators, producers around the world, now we are united as never before. Our aim is to push the boundaries of art and technology. Stay beyond censorship, political restrictions and decisions. Metaverse became our new reality and way to explore and share digital art. Metaverse is the place to meet, and present art projects to the world and explore AI tools. Today we entered the future, friends.
Me and my project partner, new media artist
Denis Semionov
/
S1ntdns
explained
EXILAND
idea and the spirit. Here is a small citation from Denis.
"The expression 'A birthplace determines a walk of life' describes the idea of the main barrier in the life of people — physical territory. Your birth place will determine which apps will be available in your store, which currency and language will you use and which type of censorship you will face. Moving to a new country is a hard process and not even a total solution to achieving freedom. You just choose which type of regulation is more suitable for you. The Internet and new creative economy are not totally decentralized, but it gives much more opportunities. After emigration my great grandfather was living as an artist in exile and was forced to change his paintings for food on a market. I feel privileged to be able to travel, work as an artist and collaborate with people around the world. Making the "Exiland" exhibition we wanted to interchange artists who are trying to break the barriers that surround them. We all have our own walls and we are trying to achieve freedom."
These words reflect me a lot.
S1ntdns
artworks exposed in our metaverse exhibition:
Soldiers / Aging Together / EXILAND you can see inside the space. Nearby there is a bench where you can sit, think about life and even take a selfie.
I am very grateful to everyone who made this project alive. Among them is the VOIC HUB team. There are a lot more exhibitions, lectures and collaborations in their
community chat.
Special thanks to Space Architect:
TadenStar
We invited 3D, AR/VR digital artists, collectors and NFT producers to speak at the opening today and share their thoughts and experience with the audience.
Sylvain Lévy, collector, co-owner of dslcollection with Dominique Lévy, spoke about his personal experience with metaverse projects and Digital Twins. Sylvain is a big friend with whom we have worked on different projects before. Including such events as Asia now and Art Basel Paris 2022.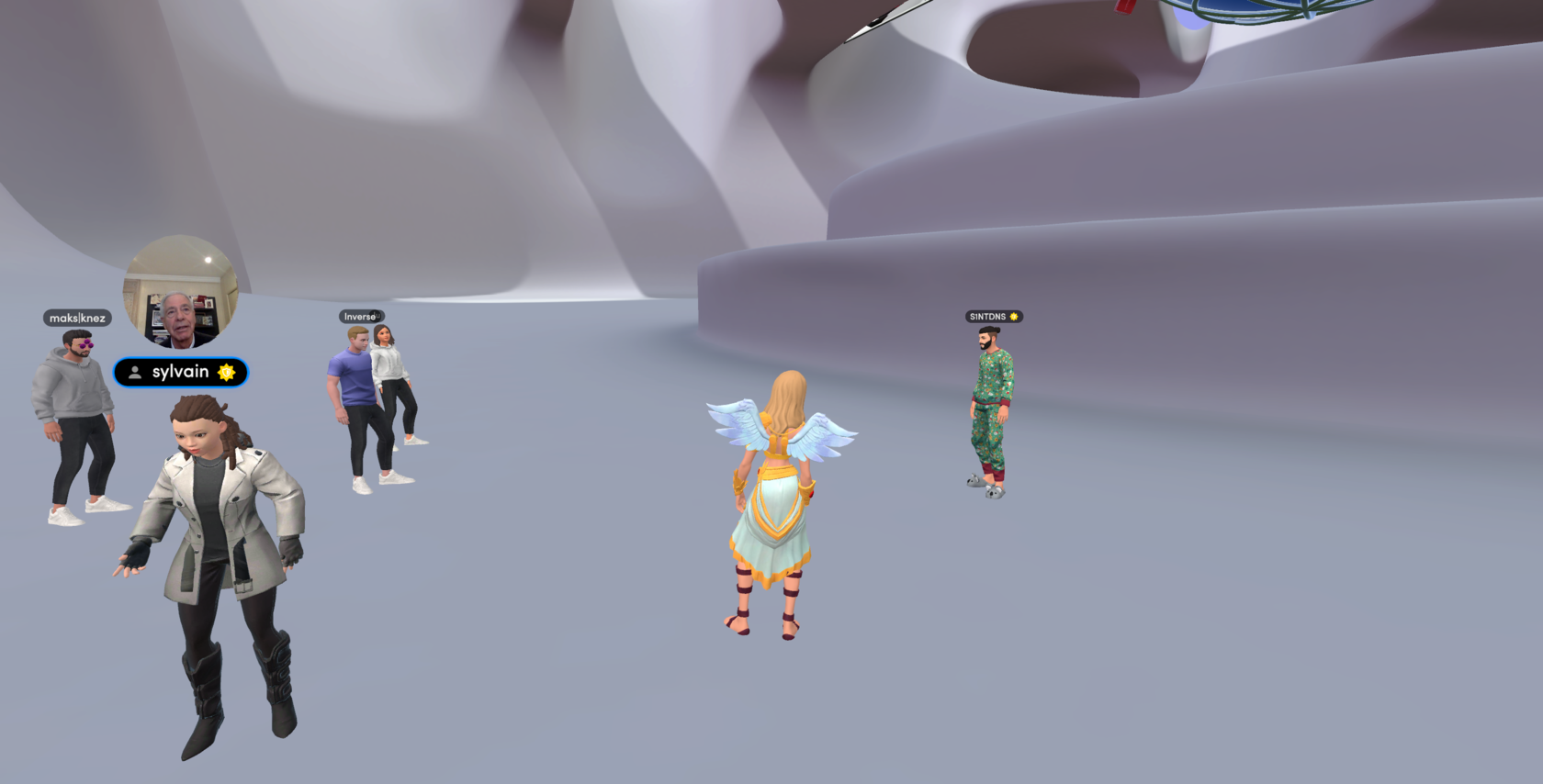 Genesis Kai, Nova Sapien, presented her art "A Drop Of Blood In A Sea Of Voices" exhibited in the space. Explained her plans for the upcoming 2023 and showed fashion artworks from collaboration with the McQueen family. We met half a year ago at an event where we were speakers. And now it came up with mutual support. She is a genius and I am very grateful to her for this opportunity to collaborate!
Next speaker and friend Alexey Severin //
Inverse
.
Alexey is a digital artist working in various media. He presented his artworks exhibited in the space. Visitors will see his animated artwork "An Ordinary Morning" symbolizing the devastating effect that such an absurd and anachronistic phenomenon as war has on individual lives and on society as a whole, and "Whirlpool" from "Rewind" series exploring overconsumption, overproduction and pollution — a video artwork mixing AI-generated imagery with more traditional 3d animation. "
I hope my work is able to speak to people from different backgrounds, regardless of their beliefs or political views, as building bridges is crucial at all times, but now especially
", says Alexey.
Alexey
also spoke about a mutual project with @recycleart presented at Venice Biennale and collaboration with Louis Vuitton.
Olga Dvoretskaya, NFT Producer and speaker for ART & TECH made a speech about secrets of NFT sales. Digital artists know it is important not only to create art but also make strong marketing and branding around it and sell it. NFT Sales is Olga's expertise.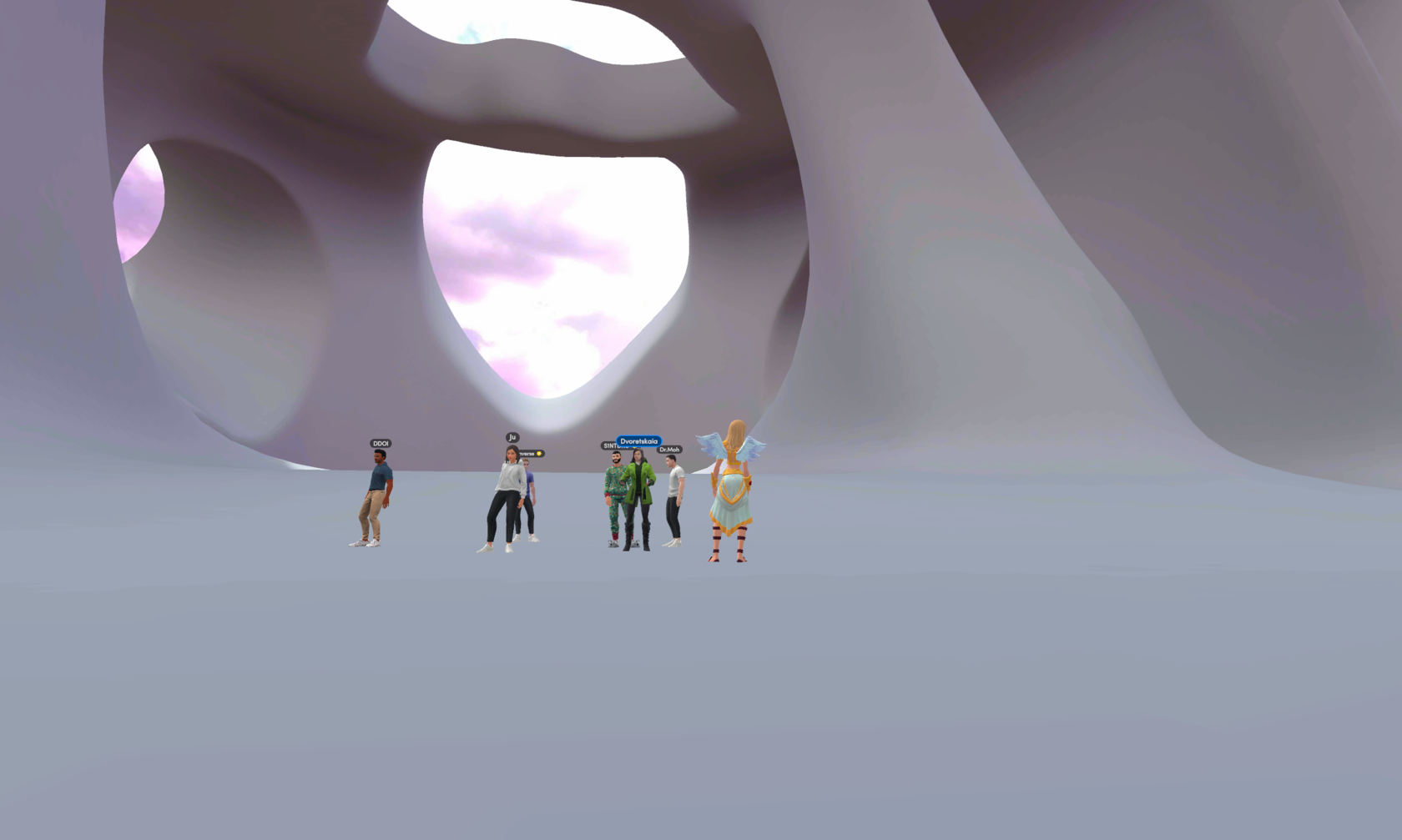 This is only the beginning of our big event program inside the metaspace. The next performances will be held on December 21, this Wednesday. You can see speakers and details
here
and join all talks for free via our
community chat.
Future is now and art should be with no borders and censorship!